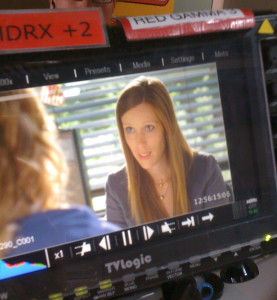 In a van down by the ocean
Samantha Grice, National Post
Published: Friday, April 07, 2006
Every year at this time, hordes of actors head to Los Angeles in hopes of being cast in a successful network television series. This week, we profile some of the intrepid Canadians competing for a chance at fame and fortune on the small screen.
- – -
LOS ANGELES – Dingle balls have been lovingly applied throughout the interior of Elizabeth Weinstein's van. The pompom trim rims the windshield as well as the ceiling and is a shade of mauve that perfectly complements the iridescent blue padded walls and long-pile rug.
On the platform bed is a leopard-print blanket, and under the bed are baskets for the 26-year-old actor's shoes and sweaters. A small, three-drawer dresser holds the rest of Weinstein's clothes and she even has a laundry basket. The curtains are made from beach mats and there is surround lighting and surround sound. The bar fridge runs on a separate battery that recharges when she drives.
It's a cozy set-up and Weinstein took her time customizing her home away from Vancouver while seeking acting jobs in Los Angeles. Her current address is the oceanside parking lot in Venice Beach.
"I built everything," she says, sitting in the van's open door and looking out at the water as Nirvana plays on the stereo. "I grew up on a farm on Vancouver Island and so I was just handy. And I took an auto mechanics class in Grade 12."
Weinstein bought the van over a year ago from a former Edmonton rock band member who used it as a tour bus. It had been parked for 12 years, so she got it for cheap. "And I fixed it up with the intention to live out of because I knew I was going to eventually come down for pilot season."
Unfortunately, Weinstein arrived in L.A. the week pilot season was wrapping up. "I was on hold for a George Clooney film," she explains. "It was a small part but it was in a feature film and it wasn't a bullshit waitress/nurse/ receptionist role. It was a really fun part," she says, explaining those are typical of the work she gets in Vancouver on shows such Stargate SG-1, Cold Squad and The L Word. "I was on hold for a month and then I found out the part was written out and I missed the tail end of pilot season."
This coincided with a breakup with her boyfriend, so Weinstein moved out of her house and into the van and headed down the coast to L.A.
Her ultimate goal is to get a manager, which she says she can't pursue quite yet as they won't see anyone until pilot season has completely wrapped. She also needs to get a phone and hopefully some bartending work under the table — she's living off her credit card, but not a working visa.
Weinstein has worked as an actor for the last eight years, but says she had trouble getting more than one line on shows such as Cold Squad and Stargate because most of the casting was done in L.A. The rest of the roles — mostly of the "Can I get you a drink, sir?" variety — were reserved for Canadians because of Canadian content laws.
"That's why all the Canadians come down here to audition for shows shooting up there," explains Weinstein. "And that's how I'm justifying not getting a working visa, because I'm not planning on booking anything shooting here. If I audition for the stuff working in Canada then I've got a better chance than an American going for that," she says as The Police's Roxanne blasts from the speakers.
One might be inclined to wish Weinstein had applied the same dedication to planning her career as she did to applying dingle balls to her van, but she says, winging it is part of her plan.
"I'm on an adventure here. I'm here for acting, but I also feel like to be healthy in the acting world, you have to have adventure on the mind," she explains. "I know a lot of actors who have come down and think they are going to come back changed or as big stars and I don't think it's about that. It's about the adventure along the way, and that's what I'm creating for myself."
Weinstein bought a traveller's pass at the nearby YMCA and she goes there to use the pool, sauna, showers and gym. "I've got to use the showers so I might as well workout, which I don't even do in Vancouver," she says. "And then right across the street is the library and they have free internet and pay phones."
At night the beach is closed so she drives to a nearby residential street, draws the blinds and goes to sleep.
"I'm aware this isn't the safest way to live in Los Angeles," Weinstein admits, "but it's probably the most fun."